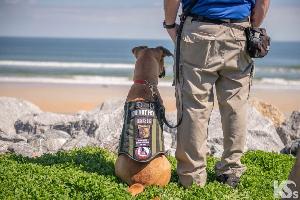 Team Trimble K9s For Warriors
Team Trimble is continuing our online fundraiser to raise money in support of K9s For Warriors. We love our pets and know what a positive impact they have on our lives and we are thankful for the service of our current military and veterans. Hosting this fundraiser is the perfect way to deliver on our commitment to making a positive impact on the lives of others.
K9s For Warriors provides highly-trained Service Dogs to military veterans suffering from PTSD, traumatic brain injury and/or military sexual trauma. With the majority of dogs coming from high-kill rescue shelters, this innovative program allows the K9/Warrior team to build an unwavering bond that facilitates their collective healing and recovery. K9s For Warriors serves our veterans as honorably as they served their country. They served for us, now we can serve for them!
Team Trimble is adding a Challenge Match to this fundraiser. If we reach our $2,000 goal with the generous donations of others, we will make a matching donation of $2,000!
Karen Trimble, Katy Thomas, Bethany Clark, Kathy Popovich, Kara Schroeder
Team Trimble Real Estate
View More

Team Trimble
$0

Achievements

$1,000 Raised
Meals for Four Warriors
Event Honor Roll
John and Kara Schroeder
$100
Recent Donors
Anonymous
Team Trimble
The Howes family
Jeanne & Mike
Mike & Sharon